2014 ASIA IP Expert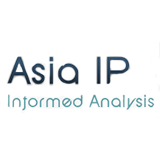 Tingxi Huo in Trademark Category
Prize Winner:
Tingxi Huo, trademark attorney and partner, graduated from Henan University with a BA in 1989, studied Japanese trademark law in Tokyo in 2003 and studied law at the China University of Political Science and Law from 2004 until 2006. He joined China Patent Agent (Hong Kong) Ltd in 1998 and passed the trademark attorney bar the same year. He joined Chofn as a managing partner in 2010.
He has edited and translated the Classification of Similar Goods and Services for Registration of Marks in the People's Republic of China and the eighth, ninth and 10th editions of the Nice Agreement, which have been extensively used by Chinese trademark examiners, peers and other professionals in and outside China since 2002. He has also written articles and made presentations on Chinese trademark law and practice in China and abroad. He has been listed in 2013 and 2014 Asia IP Experts.
During his professional career, he practiced trademark law in mainland China and Hong Kong, and has represented many Chinese and Western industrial leaders in a variety of cases. He joined the International Trademark Association Enforcement Committee for 2014-2015. His working languages are English and Chinese.
Contact particulars:
Mr. Tingxi Huo
Firm details
Chofn Intellectual Property
B316 Guangyi Plaza, Guangyi Str., Xicheng, Beijing 100053, P.R. China
Contact details
Tel: +86-10-6213 9699
Fax: +86-10-6213 1230; +86-10-6213 1630
Email: trademark@chofn.cn; office@chofn.cn
Web: www.chofn.com
Organizer:
The Apex Asia Media Group is an independent publisher based in Hong Kong. Staff have over 10 years of experience with international publishing groups including Global Sources and Euromoney Institutional Investor Plc, and have worked on magazines as diverse as the International Financial Law Review, IP Asia, Chief Executive Asia, Asialaw, Global Trader, China Law & Practice and the IP Review. They combine local knowledge with a global perspective.
Launched in December 2008, Asia IP is a unique and vital source of intelligence for IP-owning companies active in Asia, and international law firms that want to keep ahead of the key issues. The magazine includes an extensive range of in-depth features, news and analysis designed to meet the information needs of in-house counsel, senior business leaders and partners at Asian and international law firms. Focusing on the issues behind the headlines, it provides unparalleled access to the issues and solutions companies face when trying to protect their intellectual assets in Asia.
Asia IP's editorial content is guided by an Editorial Board made up of key business leaders, lawyers and academics from local and international organizations.
Asia IP is published 10 times per year at the beginning of each month, with double issues in July/August and December/January.
For further information and answers to any questions about us, please contact us.