Customs Seizes Fake Soccer Merchandise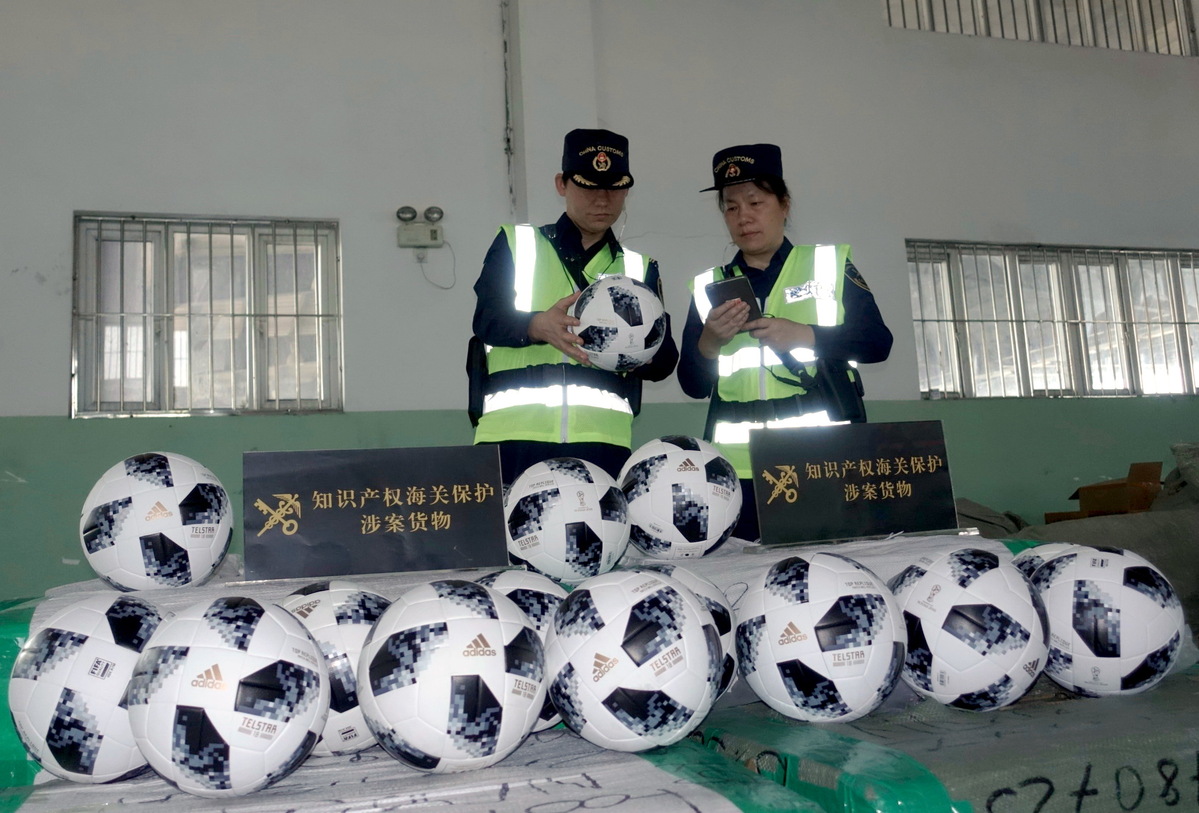 Customs officials in Guangzhou examine soccer balls suspected of infringing (photo: China Daily)
In a national campaign against fake merchandise related to the 2018 FIFA World Cup Russia, customs officials in Guangdong province have confiscated more than 130,000 items that violate intellectual property rights.
Guangzhou Customs detected 4,370 pieces of shoddy goods, including footballs bearing FIFA World Cup insignia, as well as jerseys with Adidas or Nike brand logos, in a delivery bound for Tanzania in April.
The case led officers to more fake products, including jerseys and shirts bearing FIFA marks, as well as clothing logos, according to a statement by Guangzhou Customs.
Huangpu Customs in Guangzhou detected 4,500 sets of jerseys being exported to Malaysia by a company in Nanchang, Jiangxi province.
The jerseys, wrapped in plastic bags and hidden in a container behind 30,000 pieces of plain black label-free jerseys, had FIFA World Cup Russia logos and Adidas labels.
All the jerseys were of low quality, with shabby packaging and poorly printed labels, officials said.
Many sports-related products tend to surface before high-profile events such as the Olympics, FIFA World Cup and UEFA European Championship, according to the Guangdong sub-administration of China Customs.
To protect the intellectual property rights of FIFA World Cup Russia, China's General Administration of Customs whipped up a campaign between March and June against shoddy goods. In Guangdong, customs officials have worked with their counterparts in Hong Kong and Macao.
Manufacturers should request intellectual property authorization documents when taking orders, according to customs officers.
Meanwhile, Shanghai customs also confiscated more than 130,000 pieces of fake FIFA World Cup Russia products, including 2,470 soccer balls exported by a company in Nanjing, Jiangsu province, to Colombia at Yangshan port.
The 2018 FIFA World Cup Russia tournament kicked off on Thursday and will run until July 15.
By Li Wenfang in Guangzhou
China Daily