Music Copyright Protection Issues Hit the Shop Floor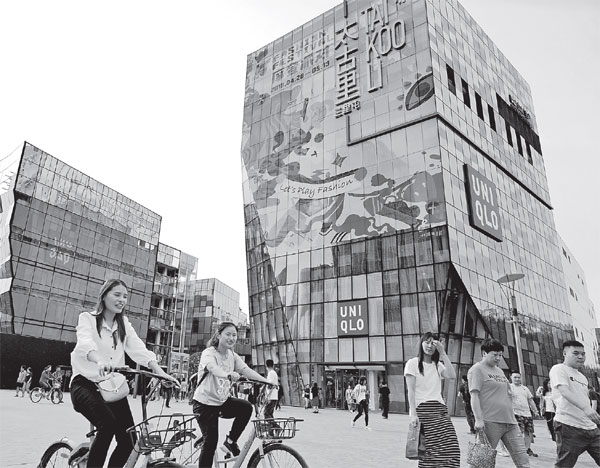 Retail outlets at popular Sanlitun shopping area Taikoo Li were recently quizzed on knowledge of background music copyright. Photos Provided to China Daily
Survey reveals more awareness, enforcement required for artists' rights
With well-known Chinese composer Lin Hai recently accusing hot pot chain Haidilao of playing his music in their restaurants without permission, a spotlight has been placed on the issue of music copyright on commercial premises.
Enforcing music copyright on commercial premises is notoriously difficult because of the high costs involved in litigation and the difficulty in collecting evidence in China.
This month, newspaper Beijing Business Today visited 300 retail stores in 11 shopping malls in the capital city, including those in the APM mall on Wangfujing Street and Taikoo Li, Sanlitun, as well as 100 smaller street stores.
They found that only 11.3 percent of them own the copyright for the background music they play in their stores.
Page One bookstore in Taikoo Li, Sanlitun was one of the stores that owned the copyright to the background music it plays. The company said it purchases copyright for music played in advance and plays different songs during different periods, such as playing Christmas-related songs around Christmas.
A total of 48.1 percent of the respondents to Beijing Business Today's survey said that they download music from the internet without getting any copyrights to play the songs in public.
Songs downloaded using software, such as QQ Music and Kugou Music, are only licensed for personal use.
According to staff at the Puma store in Raffles City shopping mall in Dongzhimen, background music is searched through Kugou Music player software and played randomly.
The other 40.6 percent of respondents said that the songs are provided by head office and that they were not sure whether they owned the copyright for the songs or not.
Stores that play background music without the rights to do so should be charged in accordance with the law, said officials from the Music Copyright Society of China.
Regulations released by the National Copyright Administration in 2011 state that retail stores and supermarkets wishing for the rights to play any one song over the course of a year must pay 3 yuan ($0.47) per square meter of retail space if the store is less than 1,000 sq m.
For commercial properties from 1,001-5,000 sq m, the rate is reduced to 2.8 yuan per sq m every year.
For businesses with a trading area ranging from 5,001 to 10,000 sq m, stores will need pay 2.55 yuan per sq m every year.
Musician Liu Jing said that many retailers repeatedly flout the law because enforcement is rare and poses little cost to them even if they are prosecuted.
Wang Yi, founder of Yimi Watch, an online platform to share stories and trends in the music industry, said that the public regards background music in stores as more of a promotion channel for the artists, instead of a copyright issue.
In overseas markets, there is better music copyright awareness and protection, policed by specific bodies that monitor sales, revenue and statistics for music copyright, which is currently lacking in China, Wang said.
By Cao Yingying
Source: China Daily