Protecting Fast-Paced Innovations
Amid China's rapid advances in technology and industry, companies are welcoming regulatory safeguards for R&D breakthroughs
In the city of Jinan, Shandong province, some traffic now travels over an expressway that doubles as a solar electricity generator.
China hails this project in the provincial capital as the world's first photovoltaic highway. The 1-kilometer stretch includes two lanes and an emergency area and comprises three layers: transparent concrete on top, photovoltaic panels in the center and insulation at the bottom.
Protecting fast-paced innovations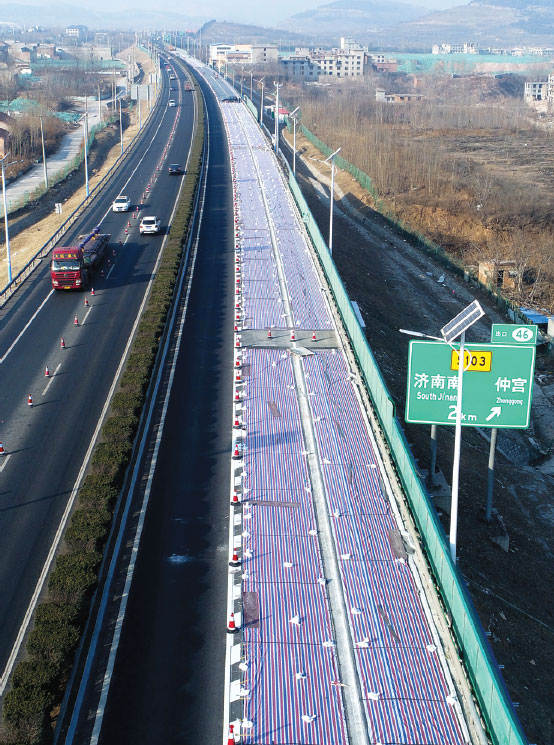 An aerial view of the world's first photovoltaic expressway during construction in Jinan, East China's Shandong province on Dec 22. The emphasis on intellectual property rights is growing alongside innovative breakthroughs in China. Provided to China Daily
It is said to have the capacity to handle 10 times more pressure than the usual asphalt highway and can also generate 1 million kilowatt-hours of electricity each year, which will go toward powering street lights and a snow-melting system.
Best of all, it can supply power to charging stations for electric vehicles in the future.
Given China's shift toward greener vehicles and more environmentally focused intellectual property, the new highway design will likely come in very useful.
For now, the experimental highway is too expensive to be commercially viable. It currently costs about 3,000 yuan ($470; 400 euros; £350) per square meter to build - a much higher cost than regular roads.
Nonetheless, this project and other developments highlight China's wide and ever-increasing capacity, and ambition, for innovation.
With innovations increasingly emerging, domestic companies see a growing need to protect their intellectual property rights.
On April 10, in his keynote speech at the Boao Forum for Asia, President Xi Jinping emphasized that there would be greater protection of IPR.
"We will strengthen protection of intellectual property rights. This is the centerpiece of the system for improving property rights protection, and it would provide the biggest boost to the competitiveness of the Chinese economy," he said.
Tim Lee, the founder and CEO of mobile payment service QFPay, believes an increase in regulations, including stronger IPR protection, is highly commendable. He feels it is a necessity for all industries and innovations to advance.
"Besides protecting intellectual property, it also helps any industry to maintain safety and quality standards," Lee says. "Though the lack of restrictions is great for innovations to initially emerge, regulations do help to light their path going forward."
As Xi said in his Boao speech, it will also serve to "increase China's economic competitiveness".
This is good news for domestic companies, especially with a boom in research and development in China.
Data from the World Bank indicates that China currently produces about 1,177 R&D researchers per million of its population - three times the number of researchers that the country produced in the 1990s and in line with the world average. Though the United States produces 4,321 researchers per million of its population, China has a population about four times larger.
And the number of Chinese researchers will undoubtedly continue growing.
China now enrolls more than 40 percent of its students in tertiary education, according to the United Nations Educational, Scientific and Cultural Organization. This marks a staggering rise from the 0.1 percent in the 1970s.
China produced almost 500,000 scientific papers in 2016. According to analytics company Elsevier, the country came in just behind the US, which produced 600,000 such papers. It is worth noting that the gap between the two has been halved in just five years.
And with China's drive to become an advanced manufacturing hub, the number of innovations from the country is likely to soar. "What we want to gradually release to the world are upgraded, middle-to high-end products," Premier Li Keqiang emphasized in 2016 at the Boao Forum for Asia.
China is already leading the region in innovation in many areas.
"We definitely look to China for innovation inspiration. When I go to Beijing, for example, I'm amazed at how cashless all the transactions are. I find myself still looking for cash while everyone else pays for everything through their phones there," says Quek Siu Rui, co-founder and CEO of Singapore-based e-commerce platform Carousell.
"The rest of the world needs to catch up with China," Quek adds.
This might help allay the fears of international businesses.
According to a survey conducted last year by the American Chamber of Commerce in China (AmCham China), member businesses were divided on their views of China's IPR laws and regulations. More than half of the respondents were largely skeptical that IPR protection laws would be properly enforced in China.
William Zarit, chairman of AmCham China, recently issued a statement saying that its membership "wants a level playing field and reciprocal treatment to improve market access in China".
Chinese authorities have been hard at work to combat the source of such worries.
"China's business environment is more regulated than before. IPR protection is a typical example," Vice-Premier Wang Yang said during a China-US Joint Commission on Commerce and Trade in Washington, DC, in 2016.
"Since 2013, China has investigated and handled more than 1 million infringement and counterfeiting criminal cases and sentenced more than 70,000 people. Acting on the decision taken at the third plenary session of the 18th Communist Party of China Central Committee, China has opened IPR courts in Beijing, Shanghai and Guangdong," Wang said.
In February, the General Office of the CPC and the General Office of the State Council, China's Cabinet, published a road map for reforming the IP adjudication system. Those in the legal profession called it unprecedented.
A four-month-long nationwide campaign to protect the intellectual property of foreign businesses was conducted during the last quarter of 2017. The drive, which concluded at the end of December, was launched to create a level playing field, protect investors' legitimate interests and further increase foreign investment, according to the Ministry of Commerce.
It saw various government and judicial bodies each take on a different focus in the campaign to stop the theft and violation of trade secrets, patents, trademarks and online property rights.
During the past five years, Vice-Premier Wang has pushed forward the revision of more than 10 relevant laws. In addition, China has set up IPR courts throughout the country, investigated 1.3 million cases and pressed charges against nearly 100,000 violators.
A 2016 study by researchers at US-based Santa Clara University's School of Law also found that between 2006 and 2011, foreign companies had brought more than 10 percent of patent infringement cases to courts in China and won more than 70 percent of those cases.
Current win rates for patent infringement cases in China average around 80 percent, with injunction rates averaging around 98 percent.
"The original justification for protecting IP was to encourage scientific and artistic creation by giving inventors and creators the exclusive right to profit from their work for a fixed time period," says Fiona Connell, principal counsel at the Asian Development Bank.
"A robust system of IP law continues to play that role and to support the spread of knowledge," she says.
Xi said at Boao: "What has happened proves that opening-up was key to China's economic growth over the past 40 years, and, in the same vein, high-quality development of China's economy in the future can only be achieved with greater openness. Opening-up is a strategic decision made by China based on its need for development as well as a concrete action taken by China to move economic globalization forward in a way that benefits people across the world.
"Let us dedicate ourselves to openness and win-win outcomes, be brave to change and break new ground, and keep striving for a community with a shared future for mankind and a better tomorrow for Asia and the world," Xi said.
For China Daily
By David Ho in Hong Kong
Source: China Daily Africa Weekly 06/29/2018 page 8