China Ranked No.1 for PCT Filings in 2019
Ms. Hui Liu & Mr. Haoyu Zhou (Elliot)
The China National Intellectual Property Administration (CNIPA) recently released the annual statistics on Chinese patent filings of 2019.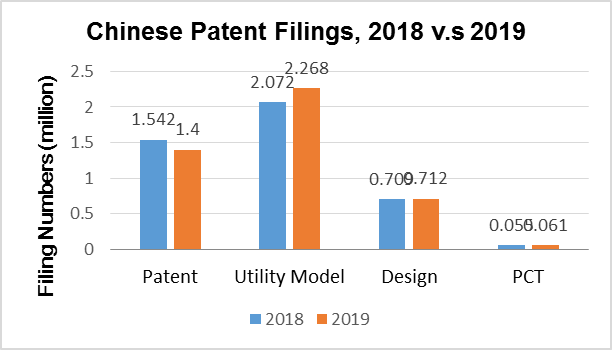 Specifically, 1.401 million of invention patent applications, 2.268 million utility model (UM) applications and 0.712 million design applications were filed through CNIPA in 2019. Among all of the patent applications pending at the CNIPA, 0.453 million invention applications, 1.582 million UM applications and 0.557 million design applications were granted. Apparently, the number of granted invention patents is still quite low and needs to be improved.
In addition, the number of PCT applications received by the CNIPA, for the first time, reached 61 thousand, an increase of 10.4% compared to that of 2018. According to some other report, this number is slightly higher than the number of PCT applications received by the USPTO, thus making China probably No.1 in terms of the quantity of PCT filings in 2019. Among 61 thousand PCT filings, 57 thousand were filed by Chinese domestic entities.
The consecutive increase in number of PCT filings over the years indicated that more and more Chinese companies are willing to extend their technologies and business into countries/regions other than China.
While the statistics in 2019 are generally within our expectations, Year 2020 will be more unpredictable due to the outbreak of COVID-19. The pandemic has influenced a number of companies and individuals, and will influence even more people worldwide if it cannot get controlled in short term.
We are confident that the virus could be defeated one day, as China has set a good example of how to control the virus and Chinese public has basically recovered from the pandemic. We hope the inventors and designers, from all over the world, will continue to innovate during this hard time.